Are you heading over to Washington, DC soon? The American Rome has lots to offer! Click here to learn 5 exciting things to do in DC.
They call it the American Rome – for its historic monuments, impressive landmarks, and rich culture.
So if you're heading over to Washington DC to see what all the fuss is about you're going to want to know where to go and what to visit.
The truth is, there's a lot to choose from; so we've put together 5 things to do in DC to get you started.
The White House
No trip to Washington DC is complete without a trip to see The White House.
Home of every US President since John Adams in 1800, you can tour this iconic resident with a visit to the State Floor, which lets you see the East Room, the Green Room, and the Blue Room.
Be sure to be in touch with your senator or House representative's office a month before you plan to visit.
The Washington Monument
Another of Washington's symbols of the free world, The Washington Monument is 555 feet and 5 inches tall, previously bragging the title of the tallest structure in the world.
There are glass elevators at the Monument which will take you to the peak, where you can look out over DC from the 360-degree observation decking.
Not only will you learn so much here, but you'll also be able to see out over everything too.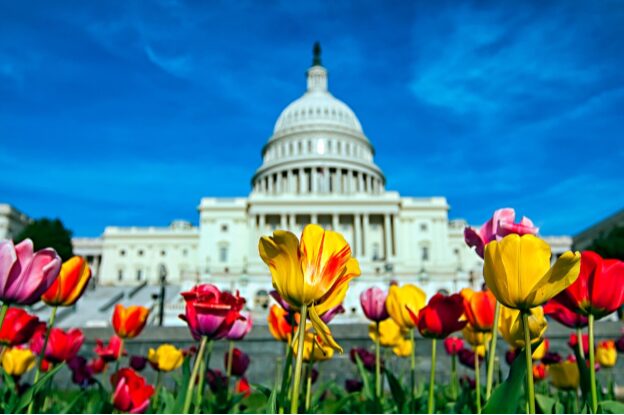 The Lincoln Memorial
Free and available to view 24 hours a day, The Lincoln Memorial is a tribute to Honest Abe. Into the walls are inscribed Lincoln's two famous speeches, the second inaugural address, and the Gettysburg Address.
This structure, with its Doric columns, is a sight to behold at any time but can be particularly striking after dark.
Smithsonian National Museum of Natural History
If dinosaurs are your thing, you've got to head over to the Smithsonian National Museum of Natural History.
And there's much more than just raptors and T-rexes on display at this amazing venue, which boats in excess of 126 million artifacts.
For example, if tarantula feedings appeal to you, head to the O. Orkin Insect Zoo; or if you're ready to be awed by the majesty of giant whales, hit the mammoth Sant Ocean Hall.
There's an IMAX Theater on-site, a Butterfly Pavilion and the David H. Koch Hall of Human Origins, which will give you an insight into where we come from, in one of the most historically-rich cities in the US.
The Tidal Basin
The Tidal Basin is a 2-mile-long pond that was once attached to the Potomac River boasting cherry blossom trees that were bestowed upon the city by Tokyo.
Whether it's a stroll around the Basin banks or taking to the water in a paddleboat, this part of DC serves as one of the most-loved backdrops to the city.
There are further memorials here too: the Martin Luther King, Jr. Memorial, the Thomas Jefferson Memorial, and the Franklin Delano Roosevelt Memorial.
And if you're worried about financing for your exciting trip, click here.
Things to do in DC
If you're impressed with our list of things to do in DC, we've got plenty more where that came from.
Check out our list of capital cities to learn even more about the sights to see across the US and across the rest of the globe.
And be sure to leave a comment below if you've got further tips for our readers on where to visit in DC – or anywhere else!