Today we will tell you today is national what day. World Day of Prayer for Vocations is offered by the Catholic Church since 1964 and celebrated since 1971, the 4th Sunday of Easter . It is therefore a moving day in the calendar.
It is a day of invitation to reflection: when we talk about "vocation", we talk about what touches the human being in the most intimate of his freedom. It is also a day of invitation to prayer: for a human freedom to discover its path, it needs to be enlightened and stimulated. This is the role of the Holy Spirit.
World Day of Prayer for Vocations May 07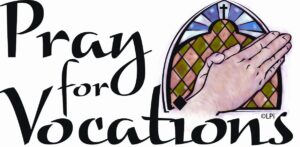 Driven by the Spirit for the mission
Each year the Holy Father used to write dense text and we invite you to discover below that proposed by the Pope Francis for 54 th World Day of Prayer for Vocations (2017):
Dear brothers and sisters,
In past years, we have had the opportunity to reflect on two aspects that concern the Christian vocation: the invitation to "come out of oneself" to listen to the voice of the Lord and the importance of ecclesial community as a privileged place where the call of God is born, nourished and expressed.
Now, on the occasion of the 54th World Day of Prayer for Vocations, I would like to dwell on the missionary dimension of the Christian call. […] "The joy of the Gospel which fills the life of the community of the disciples is a missionary joy" (encyclical Evangelii Gaudieum, n ° 21).
Dear brothers and sisters, even today, we can rediscover the ardor of the proclamation and propose, especially to the young, the following of Christ. Faced with the widespread sensation of a tired faith or reduced to pure "homework", our young people have the desire to discover the always present attraction of the figure of Jesus, to be questioned and provoked by his words and by his gestures and, finally, to dream, thanks to him, of a life fully human, joyful to devote himself to love.
Most Holy Mary, Mother of our Savior, had the courage to embrace this dream of God, putting her youth and enthusiasm in her hands. May his intercession obtain the same openness of heart, the diligence to profess our " Here I am " at the call of the Lord and the joy of going on the road (Lk 1, 39), like her, to announce it to the whole world.