We are going to share today is what national day? World dog day is of course for the man who happens to be (thankfully!) The best friend of the dog  I digress. The World Dog Day, held every August 26th, focuses on the link that has united men and dogs for thousands of years all over the world.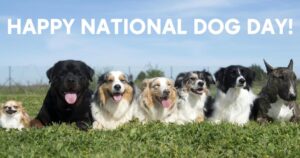 World Dog Day August 26
Its origin, as it is the case for many world days, is Anglo-Saxon and is strongly supported by IFAW (the International Fund for Animal Welfare).
This organization works every day to improve the living conditions of dogs around the world by supporting all kinds of projects that aim to improve the quality of care that is provided to our dear doggies.