Formerly known as Siam, the mesmerizing and fascinating country Thailand is located in the heart of South-East Asia. Apart from its incredibly artistic location, Thailand is home to some of the most exotic beaches, splendid islands, diverse land formations, forests, rivers, canals, and wildlife.
These, along with the amazing religious, cultural and ethnic diversity, are the reasons why Thailand should be on top of your bucket list for 2019. The country offers a number of things to see and do in the city, a great chance to visit for its beautiful places and staying for its culture. Only upon visiting will you understand why Thailand has become of the best holiday destinations in the world.
There are a lot of breathtaking natural sights to explore in this heavenly region. Therefore, we have made you a list of the top 10 reasons why you should travel to Thailand this year.
10 Reasons You Should Travel to Thailand in 2019
Why Thailand?
More than a hundred beaches, islands, canals, waterfalls, and springs, the country is filled with smiles and a happy crowd. The sunny days and electric nights will make sure you enjoy a splendid time with your loved one, family, friends, or even if you are planning to travel solo.
Moreover, this country also has plenty of amazing landmarks and natural sights for you to enjoy. The mysterious caves, limestone cliffs, mighty mountains, and cultural cities and towns with temples.
So visit this country and take full advantage of everything this place has to offer you. To find cheap flights and travel itineraries, check out this link https://flights-to-bangkok.co.uk. Here are the top things listed down below that will convince you to book the flight to Bangkok!
Thai Culture
Known as the Krung Thep in the local Thai language, the country is well known for the Buddhist religion they follow. On your trip to the country, especially it's city Bangkok, you will see monks wearing saffron or orange-colored robes, casually crossing the road beside you.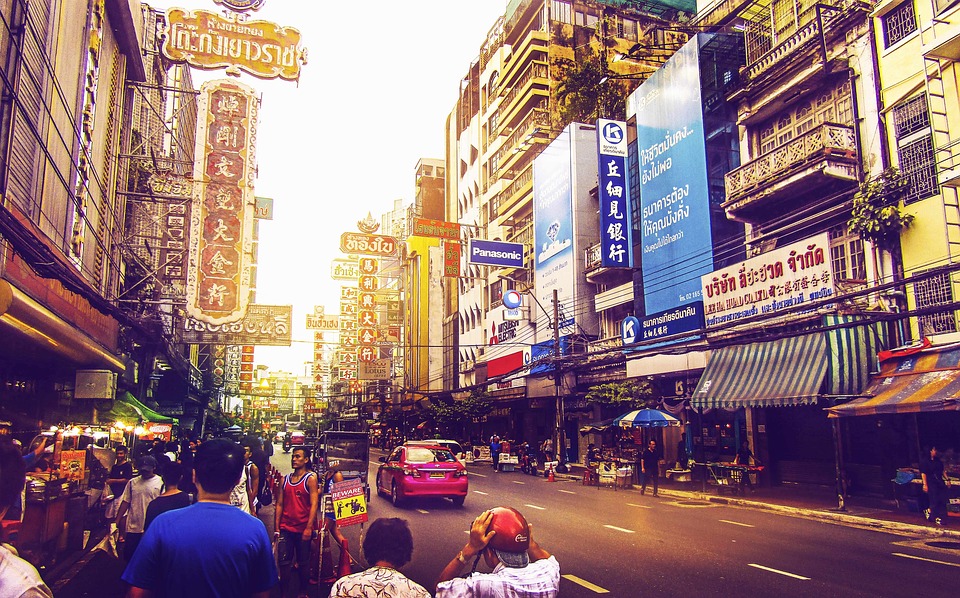 You can even join them in their religious rituals. This includes everything, from taking alms to praying, dropping coins in the bowls, etc.
However, one of the most important and biggest parts of the Thai culture is their amazing Thai cuisine. These range from the white tablecloth servings to local street food such as shrimp soup, chicken coconut soup, salads, red curry, fried rice, and fried basil with pork, etc. These tastes are best defined as a blend of flavors of spicy, savory, and sweet treats.
The paradox-y Bangkok
I call Bangkok a paradox because of the blend of electric and calm places in this Thai city. The city's absorbing nightlife is one you might have always heard every time you heard of the city.
Also Read: Top 5 Best Beachfront Hotels in Southeast Asia Top 5 Best Beachfront Hotels in Southeast Asia
If you are a party-freak, you will love the amazing partying and drinking scenes this amazing city has to offer. If cheap booze, beautiful women, and loud music are all you are looking for, you will love it here. However, if at any point you get tired of it, there is a whole different world outside.
These are some of the calmest and tranquil places in the city. Apart from the number of hiking, trekking and swimming spots, the whole country has a yoga retreat at every second corner. Especially in this wild as ever city.
You can also enjoy the magnificent views of the city from a rooftop bar or watch live Muay Thai boxing at the gigantic new Lumpini Stadium. There is something for everyone in the city, so there is no chance you will get bored here.
Thailand's Monsoon Season
Thailand's Monsoon season is one of the best time to visit the country. Most of the tourists, especially one like me who are crazy about the natural setting of the city, have a brilliant time up the forests and mountains at the start of the rainy season.
A great fact about the country is how instead of the normal seasons of winter, spring, summer, and fall/autumn, Thailand has only three weathers; hot, cool and rainy.
Since Thailand is located in Southeast Asia, it is in the perfect tropical rain belt – known as the Inter-Tropical Convergence Zone.
Tuk-Tuk tours
If you want the real, out of the camera lens tour, hire a tuk-tuk. A tuk-tuk can drive through the narrow streets of the cities, allowing you to see and enjoy the best of it. Everything from the road-side food stalls, to the amazing shopping scenes and the most fascinating some off-the-beaten-track places and things.
Phang Nga Bay
A unique group of isles, Phang Nga Bay comprises of 42 islands and is originally a national marine park. The isles create an amazing landscape, making it indeed like beautiful heaven on Earth. You can pick any beach on this island and enjoy quality time sunbathing alone, with a loved one, friends or family.
Mae Hong Son
This region is a mountainous province in Thailand, which is home to some of the most exquisite mountains, thick forests, exotic wildlife, caves, waterfalls, and weather. Because the winters are cold there, the mountains look exquisite snow-capped. Cool wet summers are another reasons why locals take a trip to Mae Hong Son.
Pai Canyon
Pai Canyon is like home for hippies, filled with a magnificent landscape. The region is probably the best option to do some healthy activities such as yoga, exercise, and trekking. There are a number of beautiful waterfalls in this region, as well as streams, rivers, and pools for swimming. If you are into trekking, you would be happy to know that there are a number of amazing trekking trails as well.
Erawan Falls
A renowned spot in the country for both locals, as well as tourists, Erawan Falls is a breathtakingly beautiful waterfall which is always swamped with tourists all over the year.
Khao Sok National Park
Khao Sok is located in the province of Surat Thani and is a national park and a home to some of the most endangered animals on this planet. There is also a lake in this national park known as Cheow Lan Lake.
The Temples of Thailand
One of the most important thing about Thailand is the staggering 40,717 Buddhist temples, among which, 33,902 are still in use today. Each temple is more majestic and diving than the others and built in the most exquisite natural setting.