For an amazing southeast Asia, the experience stays in a beachfront hotel. Keep reading for the top 5 best beachfront hotels in southeast Asia.
With gorgeous beaches and modest prices, it is no wonder that Southeast Asian tourism has been on the rise in the past decade.
To accommodate the flocks of visitors, hotels in the region have stepped it up. Sharing a bathroom in a hostel is no longer the norm when you can get a great deal at a luxurious yet reasonable hotel on the beach.
We've combed some of the most popular cities and found the 5 best beachfront hotels in SE Asia for your next vacation.
Four Seasons Resort at The Nam Hai, Vietnam
Check into your private beach villa in Vietnam during your next Southeast Asia trip. It's just stepping away from the white sand of the China Sea.
The decor mixes the comforts of home with traditional Asian silks and natural stone. The family villa has a private garden equipped with a pool or ocean view. Enjoy serene quietness and privacy with an outdoor shower and bathtub.
Or take a walk to the famous spa and wellness center. Situated on the lotus pond, the spa uses Nam Hai Earthsong noise therapy with traditional crystal bowls.
The St. Regis Bali Resort at Nusa Dua, Bali
Just when you think hotels on the beach can't get any better, you come across this 5-star villa that comes with a 24-hour butler.
The resort rests on one of Bali's best beaches just outside your door. Drop your children off at the learning center and catch the fire show all on the hotel's property.
Then make a reservation at one of the premier restaurants including the Cloud Nine Crystal Chapel surrounded by the blue ocean water. Finally, retire to your private garden and elegant suite for a peaceful evening.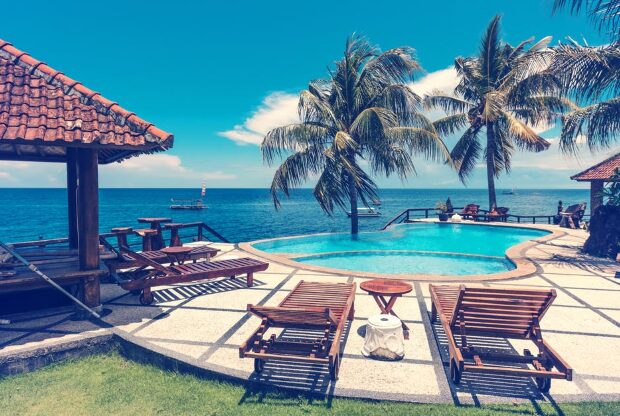 Keemala Phuket
Locked away among the jungles of Kamala Beach lie the secluded villas of Keemala, one of the best resorts in Southeast Asia. Choose from a cottage made of clay, a bird nest structure, a treetop room, or a luxury tent style. All rooms come with a private pool balcony.
The beach is just a short drive away to allow for complete serenity among the rainforest. The hotel offers transport to and from the beach.
Indulge in raindrop holistic treatment at the on-site spa or set up a fitness program to stay active during your stay.
El Nido Resorts Apulit Island, Mimaropa, Philippines
Your Southeast Asia travel should include a trip to this spectacular island retreat. If you love adventure and the outdoors, El Nido has it all, from water sports like cave diving to wildlife hikes among several islands.
After a day of activity, relax in your private villa lifted on stilts above the shoreline.
Batu, Malaysia
This hotel beach resort is set on a private island that strongly supports local preservation of its plants and animals. This makes the resort a natural wonder as you swim among the coral reefs with sea turtles and sharks.
Individual villas made by native carpenters give the hotel a natural and relaxing vibe. You may not stay in your room long as you can easily travel the island's 8 white sand beaches.
Best Beachfront Hotels Don't Sacrifice Cultural Experience
The best beachfront hotels offer comfortable accommodations without limiting your access to cultural experiences. Having the beach nearby is a bonus when you can also check out local city life.
Learn more about the city you're visiting on your next trip by checking out our capital cities fact guide.