The capital of Aruba is Oranjestad and it is the capital and most important city of Aruba, as well as being a popular cruise port that attracts visitors from all over the world.
Capital City of Aruba
This destination, characteristic for its buildings of Dutch influence in tropical colors, was founded in 1796 and received its name after the reign of Willem van Oranje-Nassau, who obtained the independence of the Netherlands from the Spanish crown.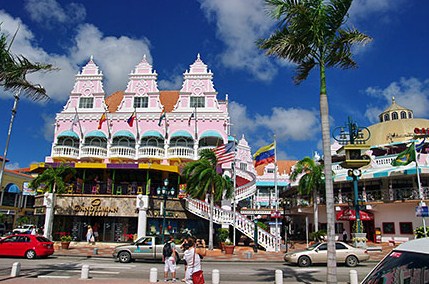 Why Oranjestad is capital city of Aruba
Fort Zoutmanes, Aruba's oldest building built in 1796, houses the Historical Museum of Aruba. The Willem III tower, built in 1867, and the duty free port are other major tourist attractions.
Interesting facts about Oranjestad
Beaches are a must see in Oranjestad, offering fun and different activities including water sports such as snorkeling, windsurfing and water bicycles. The destination offers other activities such as golf, fishing, diving and casinos. For shopping, you can visit the pier that offers local products or the downtown area where there are shops and some shopping malls such as Seaport Village Mall and Reinassance Marketplace. LG Smith Boulevard is the main thoroughfare that runs along the coast, harboring seaports, restaurants and bars.
Do you know the capital city of Angola is Luanda.
Queen Wilhelmina Park is a peaceful park with tropical vegetation ideal for a picnic. Among the cultural attractions of Oranjestad are the Archaeological Museum of Aruba, which exhibits the Amerindian legacy, and the Aruban Museum which displays prehistoric artifacts and remains of the Dutch colonial period. On Tuesday nights, this museum hosts the Bon Bini festival, a small tourist fair that offers local art and crafts, regional food and live music with traditional instruments and dances.