Netherlands National Flag
The national flag of Netherlands is divided into three horizontal stripes of the same thickness. The colors of the flag are red, white and blue. It is currently regulated by a Royal Decree of February 1937. It is one of the oldest tricolors in existence.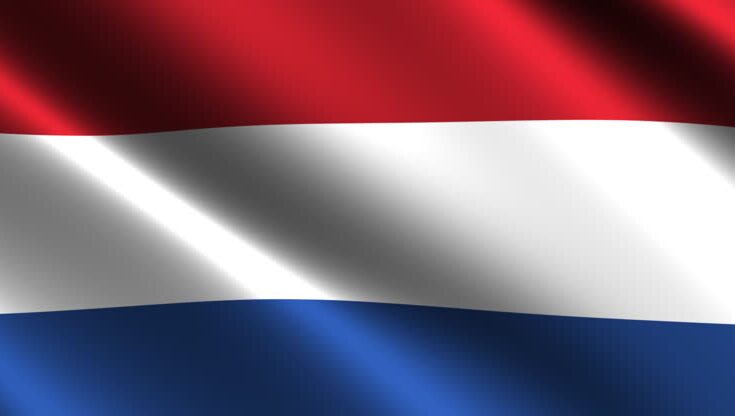 Netherlands Flag Meaning
The colors national flag of Netherlands have some meaning as well. The red has to do with the blood of those who defended the country.
The white symbol of peace.
The blue seas and rivers of Holland.
Netherlands Flag History
When in 1568 the provinces of the Netherlands rebelled against Philip II, led by the prince of Orange, fought under an orange, white and blue tricolor flag: the colors of the prince's coat of arms. That is why it is not surprising that the flag was associated with the leader and was known as "the flag of the prince".
Do you know about National Flag of Namibia ?
After 1630, the orange strip was gradually replaced by a red one, as can be seen in paintings of the time. The explanation may be that orange and sky blue are two muted colors and much harder to distinguish in the sea than red and navy blue. From that date, the national flag was red, white and blue, but it remained known as the flag of the Prince. The orange, white and blue tricolor also continued to rise.
In 1937, it was established by Royal Decree that the colors of the national flag are red, white and blue (heraldic colors: clear vermilion, white and cobalt blue).
Dates in which the flag is fluttered in official buildings
31 of January: Birthday of HRH Princess Beatrix.

27 of April: Official Birthday Celebration of His Majesty King Willem-Alexander.

4 of May: Remembrance Day end of the two wars world (18.00 – 20.15 flag at half mast).

5 of May: Liberation Day.

17 of May: Birthday of HM Queen Max.

15 of August: Celebrating the End of World War II in Indonesia.

3rd Tuesday of September: Start of the parliamentary year (only in The Hague).

7 of December: Birthday of HRH Princess Catharina-Amelia.

15 of December: Day of the Statute of the Kingdom of the Netherlands.
Netherlands Flag Pictures

Map of Netherlands