New Year, new you, and a new wardrobe! The beginning of each year is an inspiration to start fresh and try new things, and fashion choices are no exception.
So many questions from those who want to stay in touch with the trends! "Should I still be wearing these sneakers"? "Is the athleisure trend going away" "Are crewneck t-shirts still popular in 2023?".
Today, we're going to dig deeper into the last question and see whether it's time to visit Fresh Clean Tees and stock up on new crewneck styles!
So, where did it all begin for this particular kind of clothing?
A brief history
Crewneck tees have been a worker's garment for most of their existence. If you told anyone in the 1960s that you could get a t-shirt for $200, they'd laugh you out of there!
Tees were invented to protect laborers' clothing from sweat, dirt, and other grime, as showering was often not common and accessible. Oh, and the t-shirts then? They covered the entire body!
With time, athletes and US Navy have adopted these by then shorter and smaller garments for their comforts and same sweat-soaking properties. Nobody even thought of wearing a tee on its own; it's always been an undergarment!
Finally, after the war in the mid 20th century, when Hollywood was full of bad boys like James Dean and Marlon Brando, crewneck tees became a fashionable piece that all teenagers wanted to wear.
Crewneck competition
Because fashion never sleeps, soon after the popularity of the crewneck exploded, producers came out with alternatives that should've been "better" and "trendier."
For a while, V-necks, Henleys, and Polos were considered a more fashionable choice than the poor crewneck.
Each decade was different, and it's safe to say that the early 2000s were a heyday of V-necks and that Henley ruled in the 2010s
Stylists, magazines, and fashion experts were touting the superiority of these styles, but were the guys buying it?
Slow and steady
Well, it is clear as day that crewnecks, while suffering some setbacks, have remained a slow and steady force in men's fashion.
And if there were any doubts, the last few years have shown that sky's the limit when it comes to different styles and designs of a crewneck tee.
If the 80s, 90s, and even early 2000s saw only either a baggy or classic cut "dad" crewneck, today you can get everything under the sun.
We're talking reimagined hip-hop-inspired styles, fitted tees perfectly suitable for smart-casual situations , luxurious merino wool options, and of course, designer pieces that will cost you an arm and a leg!
Yes, most of us probably won't buy these expensive works of art, but high-end designers perfectly indicate how the trends are going, and they are definitely in favor of a crewneck!
Crewneck trends for 2023
Loud prints, logos, and colors
Various 90s inspired styles and fits
Graphic tees with biker jackets
Sustainable brands
Tie-die, hippy tees
Crewnecks under suits
Oversized tees with shorts
Varsity-inspired tees and logos
How to pick the best crewneck?
There are a few things you can compromise on when shopping for tees, but the fabric is not one of them.
Even if you're on a budget, instead get one good piece than 3 cheap ones you'll need to toss out after two washes.
We recommend sticking to natural materials like cotton or cotton blends, linen, merino wool, or jersey.
Skip those synthetics and cheap polyester that keep you sweating!
The fit and the color
Once you have your fabric sorted, make sure your crewneck is well-fitted. This means the shoulder seams sit right, the sleeve length is not longer than your elbow and the t-shirt doesn't expose your belly yet is not too long.
As for the colors, besides the trends we've mentioned above, make sure you still have the classics in 2023. Stock up on black, navy, grey, white, maroon, brown, and deep green or olive.
Another trend that is gaining popularity in 2023 is enamel pins. These small, decorative pins can be added to clothing, bags, and accessories to add a personal touch and show off one's interests and style. They come in a wide variety of designs, from pop culture references to political statements, and are easy to collect and trade with friends.
Must-have crewneck styles
If you're into crewnecks like we are, you probably want to make sure you have a variety at your disposal.
Here are the main styles every guy should have in their closets!
1. Monochrome crewneck
Trends come and go, so what you need is a trusted selection of monochrome tees.
It's the perfect layering piece under your blazers, hoodies, denim, or leather jackets and doesn't require much thought when styling.
Have some classic colors like the ones mentioned above, but don't be afraid to experiment with pastels or brighter colors like sky-blue or yellow. –
2. Graphic t-shirt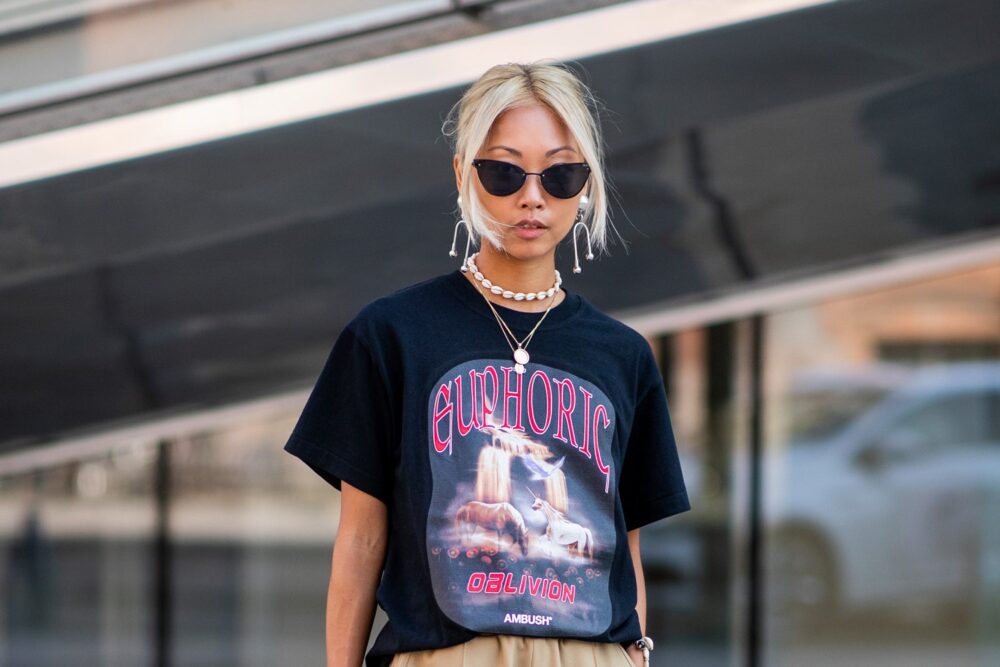 Okay, graphic tees can be tricky, but only when they're featuring some weird offensive cartoon character from the 80s or Tom Cruise.
In 2023, graphic crewneck t-shirts are very welcome, so make sure you have at least a couple for those nights at the pub.
If you're unsure what to choose, get inspiration from celebrities or go for stunning abstract artwork that can be a conversation starter.
3. Vintage t-shirt
A good vintage t-shirt is hard to find, but it's so worth the search when you do!
If you're not one to scour the internet or local second-hand stores for hidden gems, you can find "vintage-inspired" styles at most brands.
Vintage tees usually feature old bands, movies, tourist destinations, and now-defunct companies like Pan Am.
They also have that nice familiar soft-yet-firm fabric feel and look perfect under a laid-back blazer and with those Levis 501.
4. Striped t-shirt
Striped tees are trending in 2023, and we love them! Who doesn't want to feel like they're on a ship or, even better, a yacht in Saint-Tropez?
A striped crewneck doesn't need much when it comes to styling. You can simply wear it with your linen trousers, blue jeans or chino shorts. Crewneck T-Shirts collection always goes to those who like to wear this brand of clothes. Forever Unique guides you to some good outfit ideas. Lifestyle trends change your thoughts of festival outfits for modification.
Add white sneakers or espadrilles for a complete look, and you're the most fashionable person in the room (or on the deck!).
Our advice is to go for fine stripes instead of thick ones and a fitted style instead of an oversized look.