Did you know that surfing came to Virginia Beach in 1912? At that time, it was little more than a recently-incorporated sleepy beach town. But that didn't stop James Jordan, Jr. from heading out on his brand new Hawaiian board.
His uncle had bought and shipped it to him, and the massive redwood board weighed more than 100 pounds and measured 12 feet long. Despite the unwieldy nature of the beast, when the board hit the water, East Coast surfing was born.
Today, catching a wave remains a vital aspect of local culture. This is attested by Virginia Beach's Surfing Competitions. Here's a rundown of where and when to find the world's best surfers riding the waves at Virginia Beach.
The East Coast Surfing Championships 
Although a variety of competitions take place throughout the year, nothing compares to the East Coast Surfing Championships (ECSC).
These championships represent the second-longest, continuously-running surf series of competitions in the entire world! So, get ready to enjoy plenty of wave action and more "Hang Tens" then you've probably seen in a lifetime.
The ECSC showcases more than 300 amateur surfers and 200 of the world's top professional female and male surfers. This year's event will run from August 18 through 25, so save the date for this Virginia Beach Surfing Competition 2023.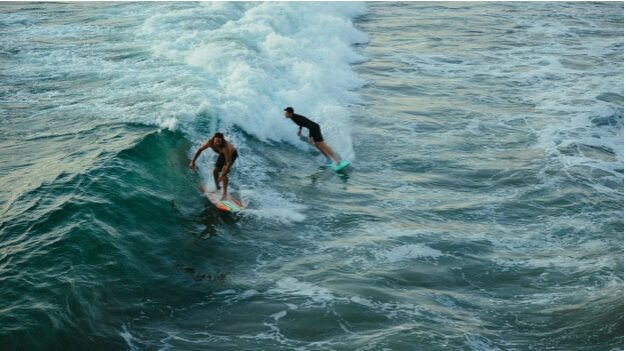 While you'll come for a piece of the action, there are also plenty of drinks, food, and music to make your beach visit unforgettable. And don't forget to check out downtown Virginia Beach with its sunny vibe and diverse activities.
These include everything from surf and souvenir shops to a themed escape room. It's the perfect place to head when you're ready for a break from the sun and heat of Virginia Beach in August.
Don't forget your phones so you can grab plenty of Instagram-worthy selfies as you unlock the mysteries of a dilapidated mansion, runaway train, island escape, and more.
Logstradamus Festival of Vibes
While ECSC overshadows all other surf competitions to hit Virginia Beach throughout the year, there's one surfing festival that's distinguished itself from the rest, the Logstradamus Festival of Vibes.
This surf festival includes a competition to win a Golden Chariot (a.k.a. a golden tricycle). And the lack of conventionality doesn't stop there.
A multi-day music festival, prizes are awarded for everything from "Best Dressed" to "Most Valuable Blazer," and even "Best Wizardly Maneuvers." A free event, it begs attendees to express themselves freely.
So, if you plan on attending this event, be sure to dress weird. Nostradamus is the Virginia Beach surfing competition for weirdos and freaks, and it's just plain fun. For all of these reasons, it remains an event you definitely don't want to miss.
This year, it'll take place from June 19 to 21, 2023, so start working on those crazy costumes now!
Virginia Beach's Surfing Competitions
Whether you're interested in scoping out some of the best surfers in the world as they battle it out at ECSC or you're looking for the eclectic fun of an event like Logstradamus, Virginia Beach's Surfing Competitions don't disappoint.
Ready for more travel tips that let you stay active? Browse our blog for unique experiences all over the globe.