National Flag of UAE
UAE is anabbreviation for the United Arab Emirates, the national flag of UAE was adopted and became part of the UAE constitution on December 2, 1971. It consists of four colors, and all the four colors are part of the pan-Arab colors that symbolizes the unity between the people of Arab peninsula. The seven states of the United Arab Emirates are Abu Dhabi, Dubai, Ajman, Fujairah, Ras al-Khaimah, Umm al-Quwain, and Sharjah.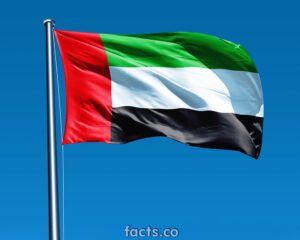 Interesting Fact:
Apart from the Federation flag of United Arab Emirates, each state of the Union has their own flag, Fujairah has no official flag, and it uses the flag of United Arab Emirates. The United Arab Emirates was formed in 1970, before that it was all red color.
The flag of Abu Dhabi is plain red with a white rectangle on the top left. Dubai and Ajman states have same colored flags i.e. red and white with white color on the left side and red on the right.
You also may learn: National Flag of the United States.
UAE Flag History
The flag of Fujairah was plain red with the name of Fujairah in Arabic before 1952. In 1952, the name of Emirates was added in the flag along with the white border linings on sides of the flag. The modern day flag is known as the flag of thefederation of United Arab Emirates, and it was adopted in 1975.
UAE Flag Meaning
There are four colored stripes in the Federation flag of United Arab Emirates. In general, the colors represent the unity of the Arabian states. There are similar bands of green, white, red, and black colors. The red band on the hoist side is slightly wider than the other three. The white represents peace, prosperity, and honesty. The green shows hope and love, red shows bravery, sacrifice, and strength, and the black stripe for the defeat of the enemies and strength of mind.
UAE Flag Picture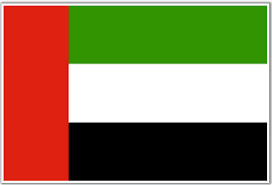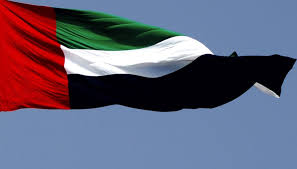 Map of  UAE