Suriname National Flag
The national flag of Suriname was adopted on November 25, 1975. National flag of Suriname consists of five horizontal stripes of green, white and red. The red strip of the center is larger than the other stripes and in the center has a yellow star with five peaks. The star symbolizes the unity of the main ethnic groups that make up the population of Suriname.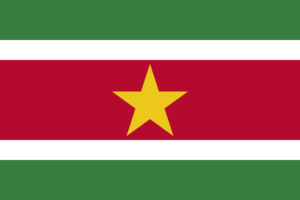 Suriname Flag Meaning
The red color represents progress and love.
The green represents hope and fertility.
The white represents peace and justice.
You may also Learn: National Flag of Sri Lanka.
Suriname Flag History
The national flag of Suriname was adopted in 1975. White represents freedom and justice red and green are the colors of political parties that operate for independence. Golden stars represent hope and prosperity. Origin of the name: The word Surinam is believed to come from the name of the Indian tribe Suriname. In old maps the name appears as Surrinamma or Serename.
Suriname Flag Pictures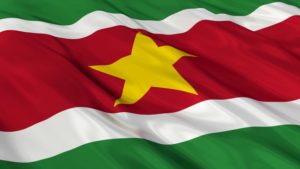 Map of Suriname