Ecuador National Flag
The National Flag of Ecuador would be formed by the colors are yellow, blue and red, in horizontal lines.
Ecuador

Flag History
After that, in 1955, the National Congress designated September 26 as the Day of the Ecuadorian Flag, a day in which the various educational and governmental institutions must pay respect to the patriotic symbol.  The use of the National Flag was made official through the Legislative Decree of 1900, where rules are also laid down for its use and treatment.
Do you know about The National Flag of Dominica?
Ecuador

Flag Meaning
The national flag of Ecuador has different colors and every color has different meaning,
The yellow color represents the richness of our mining and fertile soil.

The blue represents the ocean, the clear and clean Ecuadorian sky.

Red honors the blood that our heroes shed to give us freedom
National Flag is accompanied by two others who represent the city and some institution, the patriotic emblem must go in the center and its vertical extension will be greater than those that accompany it.
It is prohibited to fully hoist the flag if it is damaged or exhibits visible signs of destruction.
The National Flag must be displayed in all public and private buildings, on the occasion of the great national holidays.
When it comes to expressing mourning, the National Flag will be raised halfway as a sign of regret.
In the case of the Armed Forces and the institutions, the national flags that fly should have in the center the Coat of Arms.
The National Flag that is exhibited in the Municipal Councils will carry in the center a circle of as many stars as provinces form the Ecuador.
Ecuador Flag Pictures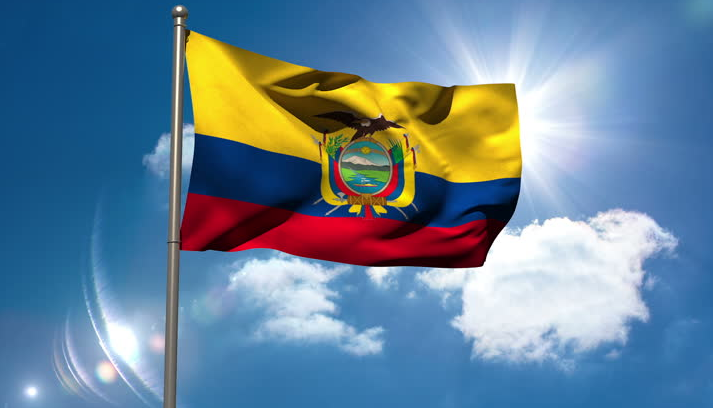 Map of Ecuador