Cambodian National Flag
In 1993, the national flag of Cambodia was adopted again by choosing the model created in 1948. The current Cambodian flag, along with that of Afghanistan, have the characteristic of being the only two flags in the world that have a building in his design. Red and blue are the traditional colors of Cambodia. Almost all Cambodian flag models made use of the image of the Angkor temple, one way or another. This famous temple, dating from the 12th century and is a national symbol, was built by Mahidharapura monarchs. It has 5 towers, but these were not always all represented in the stylized version used on the flags.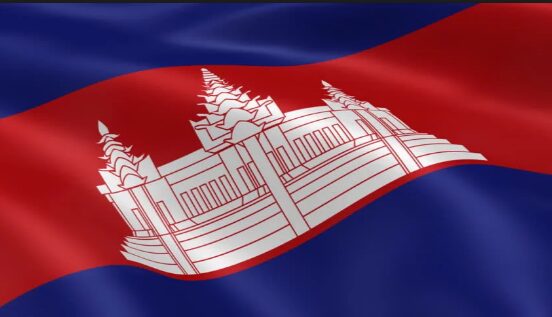 Cambodia Flag Meaning
In the national flag of Cambodia, the red stripe has the white silhouette of Angkor Wat temple in its center. This symbol of the Khmer dynasty of the 12th century is considered as one of Cambodia's largest rulers. The temple towers should remember Mount Meru, home of the Hindu gods. The blue stripes represent dignity, the red stripe represents the nation, and the white color refers to the strength of religion.
Do you know about the National Flag of Burma ?
Cambodia Flag History
Until 1989, the national flag of Cambodia was used with a yellow outline of the temple in a red band, but after the civil war and the restoration of the monarchy in 1993, King Sihanouk was inclined to adopt the current banner.
Cambodia Coat of Arms
The Royal Coat of Arms of Cambodia was recovered in 1993, after the restoration of the monarchy occurred. During the period in which the country was under the control of Khmer Rouge this coat of arms was replaced by a circular emblem composed by the elements of the flag.
The royal coat of arms of Cambodia consists of two cups; one placed on the other; on top, placed horizontally, a sacred sword surmounted by the Cambodian version of the Om symbol. On the sides of the cups are represented two branches of laurel that are united behind a representation of the plaque of the Royal Order of Cambodia. Behind these elements is the royal mantle.
At the top of the shield appears the royal crown of Cambodia, with a ray of light on it.
Facts about Cambodia
Official name: Kingdom of Cambodia

Ratio: 2: 3

Approved on: 1993

Location: Southeast Asia borders Thailand, Laos, Vietnam and Gulf of Thailand

Capital City: Phnom Penh

Main Cities: Siempang, Long Bongs, Kampong Trąbek

Surface area: 69,898 square kilometers

Population: 14,805,358

Currencies: Riel (KHR)

Official language: Khmer

National Anthem: Majestic Unite
Cambodia Flag Pictures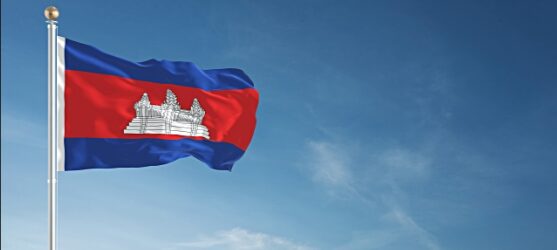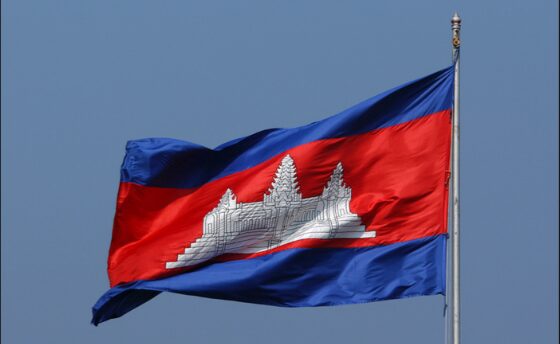 Map of Cambodia