Bhutan National Flag
The national flag of Bhutan adopted in 1965; the national flag of Bhutan consists of two colors, yellow and orange with a white dragon along the dividing line. The colors are divided diagonally into two triangles; the yellow color symbolizes the power of the monarchy, and the orange symbolizes the Buddhist religion. The dragon symbolizes "Druk" thunder dragon of mythology and represents the local name of Tibetan Bhutan "Land of the Dragons"; and the dragon is grabbing the Jewels of the country's wealth.
Do you know about the National Flag of Benin ?
Bhutan Flag History
The national flag of Bhutan is divided diagonally from the lower corner of the shaft side, to the upper corner of the outside of the flag, forming two triangles. The superior one is of yellow color, being of orange color the inferior one. Centered along the dividing line is a white dragon looking out of the flag.
This flag, with small variations, has been used since the 19th century, reaching its present form in 1960. Its original design was created by Rani Mayum Chonying Wangmo Dorji, paternal great-grandmother of the current monarch, Jigme Khesar Namgyal Wangchuck.
The dragon depicted on the flag, Druk or Thunder Dragon, represents Bhutan's name in Tibetan, which is "The Land of the Dragon" (Druk Yul). The dragon holds jewels in its claws, which represent abundance. The yellow color represents the secular monarchy, while orange represents the Buddhist religion.
This is one of the few flags that use the prominent orange color, and the only national flag next to the one of Wales that contains a dragon.
Bhutan Flag Meaning
National flag of Bhutan is a classic rectangular flag, like most of the flags of the world of sovereign and independent states. Their length and width are related to each other in a ratio of 3: 2. Bhutan flag has a two color field. It is divided diagonally, from bottom to top and from left to right. Part of a panel adjacent to the axis, is painted in a dark yellow color, and the opposite – orange. On the border of the two fields in the center of the Bhutanese flag applies to the image of the dragon, called Bhutan Druk. The dragon head away from the shaft in the direction of the free edge. Druck portrayed on white with a black outline drawn in its details. Dragon on the flag of Bhutan – a symbol name. Translated from the local dialect means Bhutan Dragon Land, and the precious crystals that Druk keeps on the legs, reminiscent of treasures of incalculable value hidden in the depths of that power. The yellow part of the Bhutan flag – a tribute to the ruling monarchy and the red-orange part reminds that the majority of the population professes Buddhism.
Bhutan Flag Pictures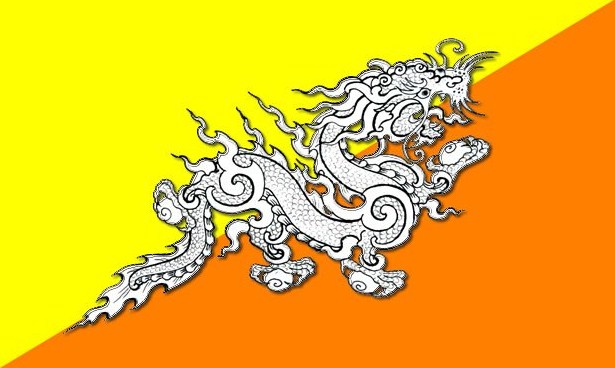 Map of Bhutan