We are going to share today is what national day? In 1994, the United Nations General Assembly decided to make 9 August the International Day of the World's Indigenous People (resolution 49/214), each year during the International Decade of the Indigenous People. This date marks the day of the first meeting of the Working Group on Indigenous Populations of the Sub-Commission on the Promotion and Protection of Human Rights in 1982.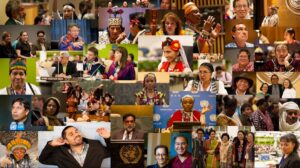 International Day of Indigenous Populations August 09
The purpose of the Decade is to strengthen international cooperation to address the challenges faced by indigenous peoples in areas such as human rights, environment, development, education and health. The Coordinator of the Decade is the Office of the United Nations High Commissioner for Human Rights.
In April 2000, the Commission on Human Rights adopted a resolution on the establishment of the Permanent Forum on Indigenous Issues, which was approved by the Economic and Social Council on 28 July 2000. (E / RES / 2000 / 22). The Permanent Forum should provide advice on issues related to social and economic development, human rights, education, health and the environment.