Capital City of Solomon Islands
Honiara is the capital city of Solomon Islands . It is located on the north coast of the Island of Guadalcanal , although
it does not belong to that province, but has the status of territory of the capital. The city was rebuilt to house the
capital of the archipelago, replacing the ancient capital, Tulagi , after the end of World War II . It is the most
populated city in the country.
Interesting facts about Honiara
History
Honiara did not exist before World War II . It was developed during this war around the headquarters of the Army of the United States in Guadalcanal Island , near Henderson Field, airbase during the war, and now the country 's main airport. In 1952 he officially replaced Tulagi as the national capital.
Geography
Hoinara is located on the north coast of the Isla de Guadalcanal . The climate is tropical with average daytime
temperatures averaging 28 ° C throughout the year. Rainfall takes place between the months of November and April.
Economy
The city has an airport and a port that serves for the export of coconut, wood and gold. There are also the main
administrative bodies of the country and the National Museum. Tourism plays a fundamental role in the economy of the city.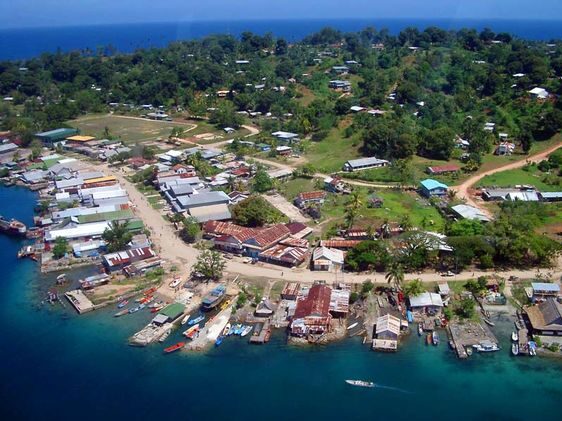 Tourism
Honiara, is the tourist center of the Solomon Islands . The serene town of houses on the shores, attract the attention of lovers of water sports and activities such as fishing and diving port. Apart from water activities, you can also visit
local and city museums that reflect milestones of the vibrant culture and history of the Solomon Islands .
Society
Main street of the city In 1986, Honiara had a population of 50,100. The last official census dates back to 1999 and has a population of 49,107, and it is estimated that for 2009 the figure increased to 66,824 inhabitants. This is due to the fact that Honiara is the main urban center of the Solomon Islands , concentrating more than half of the formal jobs.
The per capita consumption of an inhabitant of the capital triples that of the rural inhabitants. The inhabitants of the capital are twice as likely to receive a secondary education, and three times more likely to have a bank account and health services in their residence. The proportion of people in Honiara with electricity exceeds eight times the same proportion of the field. For these reasons, it is not surprising that migration to Honiara, Solomon Islands is important.