Capital of Iceland
The capital city of Iceland is Reikiavík can be described as a cosmopolitan, cozy and modern city, a place full of life in which there is always something to do, some event. There are museums, art galleries, countless cafes and restaurants, modern shops, thermal pools and multiple cultural attractions. And, above all, a unique nightlife. But it is also a quiet place with clean streets and cheerful houses of various colors with care. Do not expect to find a city with an old town with magnificent buildings and monuments like many European capitals. Reykjavik is, however, a beautiful city surrounded by nature and full of contrasts: colorful houses and sheets of corrugated iron, and avant-garde glass buildings.
The capital of Iceland is located in the southwestern part of the island, in the Faxaflói bay, and has only about 190 thousand inhabitants, which makes it a city not too oppressive and comfortable to live. Reikiavík means "bay of smoke " , which already tells a lot about the capital of Iceland and its hot springs , which are authentic social centers, places of relaxation and meeting. And, in addition, the inhabitants of Reikiavík use these hot springs to heat their houses stairs, parking, sidewalks and swimming pools.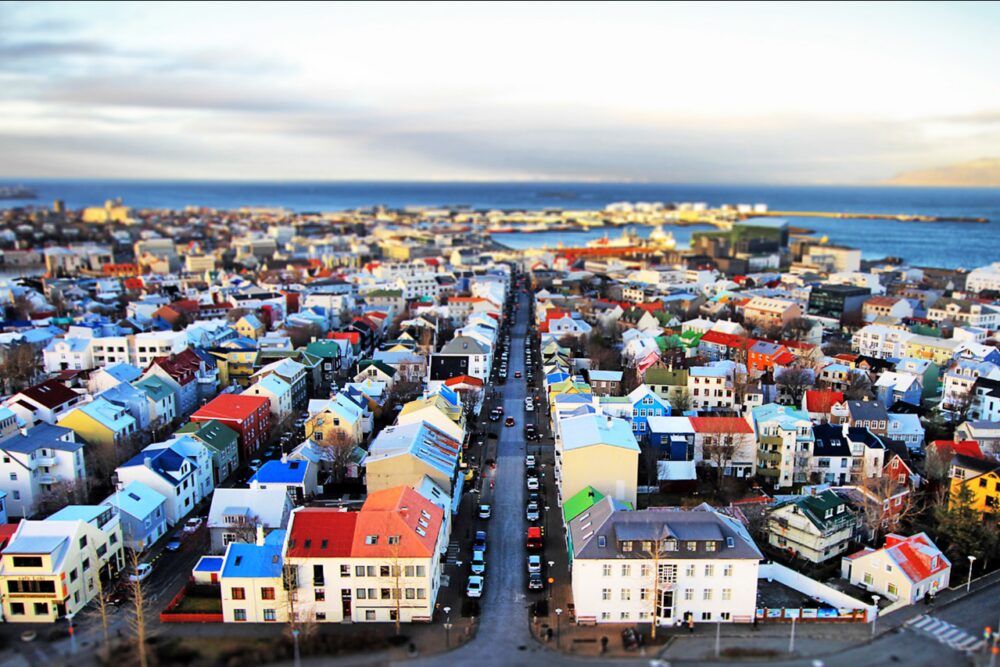 Interesting Facts about Reykjavik
The capital city of Iceland is Reikiavík  climate is fairly mild compared to what you would expect, as the Gulf Stream makes temperatures mild, and winters, although long and with few hours of light (some days only four), are not extremely cold . In addition, being able to see the aurora borealis and the attractive atmosphere of the city, both day and night, compensate. And as for summers, Reikiavík becomes the center of a continuous activity, in a bright city where it is never night, and the inhabitants find a thousand and one things to do.
Do you know about the capital city of Hong Kong ?
The magnificent natural environment that surrounds Reikiavík invites travelers to start some of the routes that depart from the capital to discover this beautiful country. Or do any of the thousand and one activities offered: a hike to Mount Esja (914 meters high) overlooking the city, to see the beautiful views; Hiking on the glaciers, horseback riding , whale watching , salmon fishing, golf at midnight, climbing, sailing , … All this and more offers you this capital and the splendid nature that surrounds it.
Reykjiavík is color; we can see it in their wooden houses that make the city a nice and beautiful place.  Photo of Teatsche.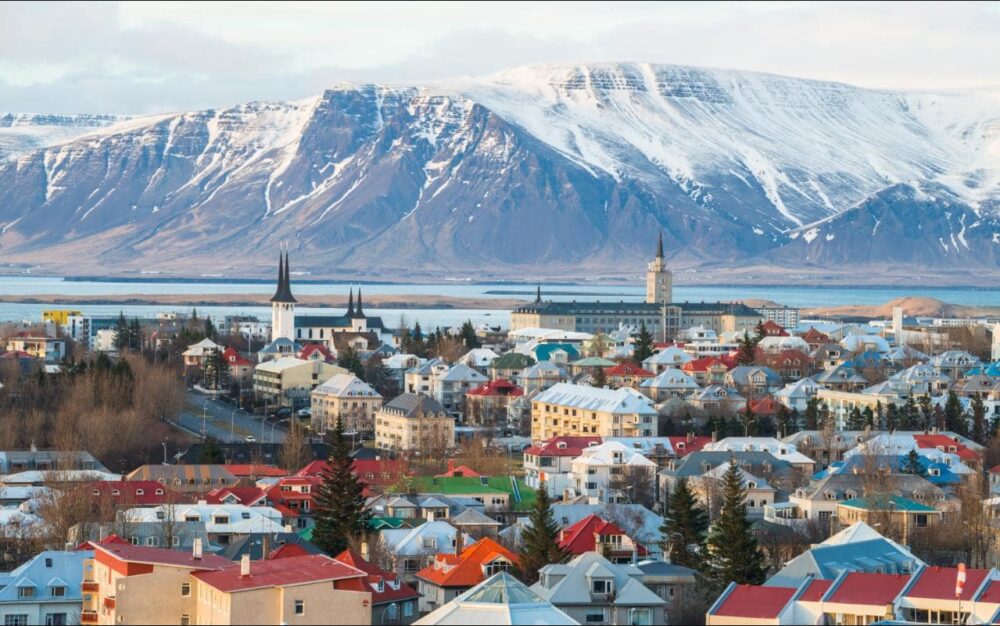 Where to sleep in Reykjavik
In the capital of Iceland there is a wide variety of accommodation , hotels 1 to 4 stars in the heart of the city, bed and breakfast or guesthouses (with breakfast and a more familiar treatment), pensions and hotel chains At a good price. If you go several, perhaps the best option are the apartments in Reykiavík . There are also campsites and shelters or hostels , a form of cheap accommodation in Iceland, but do not forget to book in advance and take the card alberguista. A small tip: if you go in summer, do not forget that there is light for most of the day, and many hotels do not have shutters, so we recommend that they wear antifaces. We also advise you to book in advance, before traveling: you can compare prices and choose different types of accommodation on our accommodation page in Iceland.
Where to eat in Reykjavik
In Reykjavik there are a lot of restaurants and very varied, of Icelandic or more international gastronomy (kebab, pizzerias, Chinese,), and the atmosphere of some of these cafes-restaurants is unique. We recommend the port restaurants, such as Icelandic Fish & Chips, one of the best known in the city, where they can eat different types of fried or baked fish, mussels and seafood. There are also delicious sauces based on skyr (a local yogurt). There are also nice restaurants in the old town, between Laugavegur and the harbor, to eat or just to have something to eat, such as the Laudromat Café, where there are only sandwiches, burgers and some dishes, But it has enough atmosphere and a good decoration, plus a lot of books and children's play area – draws attention to the entry sign that says "life's too short for bad burgers!". In the perpendicular of Laugavegur is the Vegamòt, with enough dishes to choose from.
Route through Reikiavík
The capital of Iceland is quite small, so you can walk on foot without any problem. The idea is to get lost in the streets and go see the different sites of tourist interest. If you have a car, think that it is not easy to find free parking, since almost all streets have parking meters. You can start the route from one of the most representative buildings of Reikiavík: the Lutheran Cathedral of Hallgrímskirkja , the tallest building in the country that will serve as a point of reference for the city. It was designed by Guðjón Samúelsson, who was inspired by the forests of basaltic columns of the Icelandic volcanic landscape. And do not forget to climb to the top of the tower by elevator and enjoy some beautiful views of Reikiavík.
They can go to the old neighborhood between the lake and the sea. One of Icelanders' favorite places to stroll is the l Tjörnin l, where we can see several migratory species. Near the lake is the town hall, the Raðhúsið, also known as Reykjavik City Hall, which was inaugurated in 1992. It is a modern building that you can enter to see one of the many exhibitions that there is usually, since it is a forum Cultural, as well as meeting place and information. Not far away is the seat of the Icelandic parliament, the Alþingihús, built with dolerite (volcanic rock), between 1880 and 1881, as simple as the Government House. To your left, In the eastern part of Lake Tjörnin is the neo-Gothic church Fríkirkjan í Reykjavík (Free Church Luretana of Reykjavík, opposite the Danish Lutheran Church), a wooden church painted white with green roofs that was built in 1902 in the traditional way. There are usually concerts of all kinds of music.
Lake Tjörnin in the center of Reykjavik, which in winter is freezing and becomes a skating rink.
Do not forget to go to the promenade, the Saebraut, a very popular area, where people walk, bike or rollerblading, a very pleasant place, despite the skyscrapers built after the Icelandic financial crash, which made Reikiavík lost some of its charm. Strolling, you can admire Mount Esja and encounter the striking sculpture "Sun Voyager" by Jon Gunnar Arnason , which depicts a Viking ship . When the sun sets, they can make beautiful photographs with the sculpture in the foreground.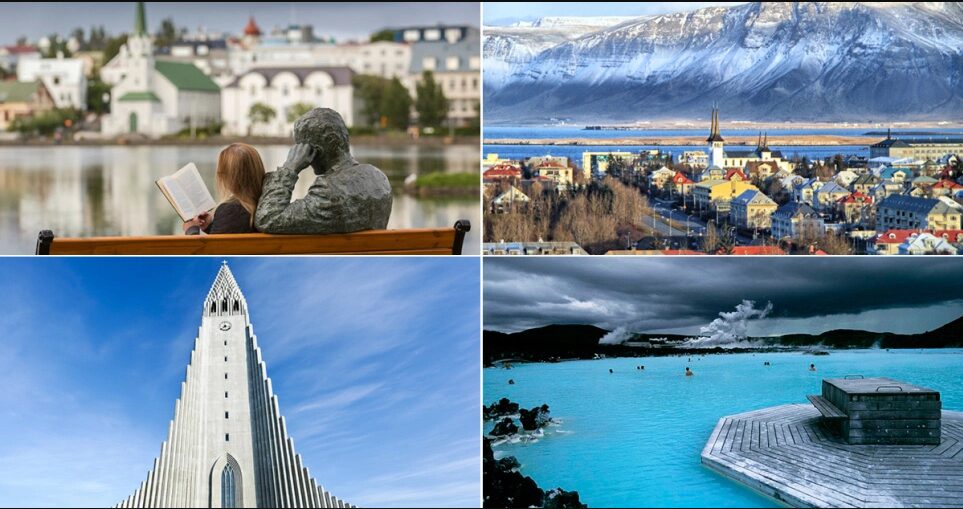 Then you can go to Arnarhöll, situated between the Government House and the sea, on the hill to the east of Lake Tjörnin, which is a small park on whose slopes the inhabitants of the city sled in winter. From there there are good views of the port where many cruises dock, especially in summer.
Typical colorful handles of old Reykjiavík. 
The old Wash Path (Laugavegur) is the commercial route of Old Reykjavik. And the Laugadalur – which means "valley of the hot springs " – is where the old laundry is located, today the most important recreational place and one of the most important sports complexes of Reykiavík. There are athletics tracks, football fields, an indoor ice rink, the Reikiavík football stadium and the Laugardalshöll Arena, a multipurpose space where there are also large concerts, fairgrounds, exhibitions, championships (such as Handball 1995 or Championship World Chess where the American Bobby Ficher defeated the Russian Boris Spassky).
Afterwards, you can go to the Perlan Building (La Perla), which is on a hill with several walking paths. This building houses the Museum of the Sagas, and has a restaurant in the dome and a viewpoint that is worth climbing, as there are panoramic views of Reykjavik. In addition, the glass structure of the Perlman Building is located on six thermal water tanks used for the heating of the city. Remember that Reykiavík is supplied with hot water of geothermal origin for all uses (for houses and for municipal swimming pools and spas, as well as for heating sidewalks and streets to prevent the ground from being covered with ice in winter.
Excursions from Reikiavík
From Reikiavík you can take trips to nearby places, such as Mount Esja, which can be reached by bus, from which you can admire the spectacular views of the capital, as well as hiking trails. You can also go to the island of Viðey, just a few minutes from Reykjavík by boat (consult our ferries page), where you can make excursions through various hiking trails, horse riding , etc. In Vie you can see the recent work of Yoko Ono, the Imagine Peace Tower, and a beacon of light that lights from October to December (more information in our heritage section).