Uruguay National Flag
The national flag of Uruguay is adopted by the laws of 16 December 1828. Its colors are white and gold color.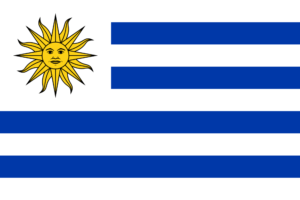 Uruguay National History
The Preliminary Peace Agreement, signed in 1828 marked the birth of Uruguay as an independent country and the establishment of a national flag of its own.
The decree-law established, in its only article that the Uruguayan national flag would consist of nine stripes "blue sky" on a white background, with a free space to its left, in a square shape, where a sun would be placed.
The choice of the nine strips coincided with the number of departments in which the country was divided at that time: Montevideo, Colonia, Maldonado, Soriano, San José, Canelones, Paysandú, Durazno and Cerro Largo.
You also may learn: National Flag of United Kingdom.
Uruguay National Meaning
Its colors are white and blue, having the sun, which occupies the canton, gold color. The flag has the following proportions: the length and the width are in relation of 3 to 2 and the space that contains the sun consists of a picture in the part superior, next to the flagpole that arrives until the sixth strip exclusive, of color blue. The first strip and the last strip are white.
The drawing of the sun consists of a circle, with face, bordered by sixteen rays (eight straight and eight interspersed flamingos), with a diameter of 11/15 white. The canton is occupied by the Sun of May, symbol that historically makes reference to the Inca deity Inti, allusion to the indigenous towns.
The colors of the Uruguayan national flag are taken from the colors of the flag of the United Provinces.
The width of the flag is 2/3 of its length, and the square that occupies the sun arrives until the beginning of the third celestial strip, reason why the first two strips of this color are shorter than the last two.
Uruguay National Pictures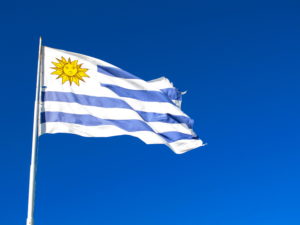 Map of Uruguay