Slovenia National Flag
The national flag of Slovenia consists of three equal horizontal bands, white (upper), blue and red. In the upper left, centered between the blue and white bands, is the coat of arms of Slovenia.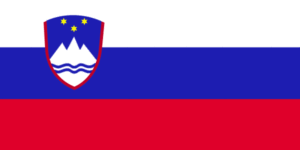 Slovenia Flag History
The Slovenian national tricolor flag appears for the first time in 1848 during the Spring of Nations. The present one is inspired by the flag of the region of Carniola, used in the period from 1848 to 1918. Between World War II and 1991 the national flag of Slovenia had a red star in the center. When the proclamation of the Independence of Slovenia was made on June 25, 1991, the parliament decided to replace the old symbols and accept the design of those who from that date will represent the Slovenian nation. It shows the three national colors (white, blue and red) of the region of Carniola, the historic center of the territory of the Slovenian people. At its upper left is the National Coat of Arms.
The shield of the republic of Slovenia has in the center the white profile of Mount Triglav (symbol of Slovene and the highest peak of Slovenia), below there are two undulating blue lines, symbols of the sea and rivers and above has three Golden hexagonal stars, placed in the shape of an inverse triangle which are the symbols of the counts of Celje, the last great dynasty in the Slovenian territory. The national coat of arms was created by the sculptor Marko Pogacnik.
You also may learn: National Flag of Slovakia.
The national flag of Slovenia was declared official by the Assembly of Slovenia on 24 June 1991 and was first used in Ljubljana on June 26, 1991, one day after the declaration of independence of Slovenia. This flag, except for the shield, is similar to the flags of Russia and Slovakia. The shield consists of a drawing of mount Triglav, the highest peak of Slovenia, in white and blue background; below are two blue wavy lines representing the Adriatic Sea and the rivers of Slovenia. It is also possible to see three golden six-pointed stars, arranged in an inverse triangle, which were taken from the coat of arms of the counts of Celje (in Slovenian Grofje Celjski)
Slovenia Flag Meaning
The flag of Slovenia was officially adopted on June 24, 1991. Red, white and blue are the traditional Pan-Slavic colors. The coat of arms of Slovenia shows three golden stars, symbol of the duchy of Celje. The mountains shown in white represent the Alps and Mount Triglav, the national symbol of Slovenia. The blue lines at the bottom signify Slovenia's valuable access to the sea.
Slovenia Flag Pictures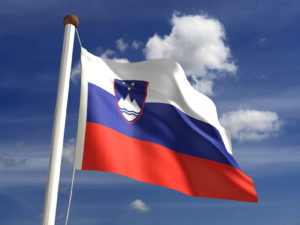 Map of Slovenia