Maldives national Flag History
The national flag of Maldives was proposed and adopted in 1965. Maldives is a republic as of 2017, the official name of the country is the Republic of Maldives. It is located in South Asia and is in the form of an isolated Island in the Indian Ocean. Since 12th Century, Maldives was a Sultanate ruled by Muslim rulers due to its closeness to the Indian Ocean. Most of the people of Maldives are Indian of origin. Many European powers colonized the Island state in different eras. After Maldives Buddhist ruler had converted to Islam in the12th Century, there was a mass conversion of people to Islam, and in a century it became a Muslim majority state. After the colonization, Abdul Majeed Didi emerged as a ruler of the newly born state in July 1965. In 1967, Maldives became a Republic after a vote, and Ibrahim Nasir became first President. The national flag of Maldives was proposed and adopted in 1965. It has a green and a red rectangle, both are dark colored. The red rectangle is placed on the outer part of the flag while the green rectangle is situated on the inner side of theflag. The flag proportion is 2:3. There is a white crescent in the middle of the inner green triangle.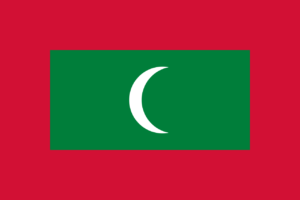 Maldives Flag Meaning
After its adoption on July 25, 1965, the national flag of Maldives is unchanged. The red rectangle on the outer border of flag gives red tribute to the ones who defended the nation and were declared hero. It also depicts the soldiers of the nation who are willing to make everything on hand to defend their country. The green rectangle symbolizes the economic boom and peace that prevails in the country, it is also linked with Maldives ever-growing fish and tourism industry. The white colored crescent shows the Islamic faith and people of Maldives living to the guidelines provided by Islam.
You also may learn:National Flag of Lebanon.
Maldives Flag Pictures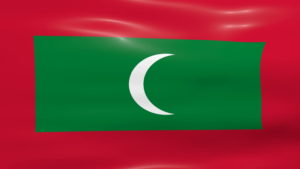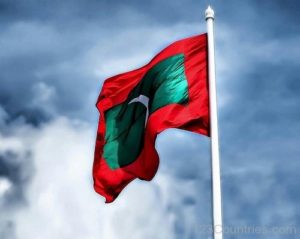 Map of Maldives