Georgia National Flag
The national flag of Georgia was adopted in January 2004 after the so-called "Roses Revolution"; hence it is one of the new flags. At that time, it was a symbol of the newly elected National Movement President Saakashvili. It consists of a large red cross of St. George that reaches the edges of the flag, and four smaller ones placed in the middle of each of the resulting fields. The origin of the national flag of Georgia goes back to the 14th century, when an unknown Franciscan monk mentions the "white veil with five red crosses." The cross is also similar to the cross of Jerusalem,
Georgia Flag History
The national flag of Georgia is popularly known as "the flag of the five crosses". Established when this country was proclaimed independent of the USSR in 1997. It has been modified to this model on January 14, 2005. The current logo has the St. George Cross (also present on the flag of England) and four small crosses that correspond to George V of Georgia (also known as "The Brilliant") who expelled the Mongols in the middle Ages. Located between Asia and Europe, Georgia is the name of a country governed by a semi-presidential form of government whose history comes from the kingdoms of Iberia and Colchis.
Did you know about National Flag of France ?
For a time, it was part of the Russian Empire, although it is known that after the Russian revolution passed into the hands of Soviet Russia. Only a few years later, Georgia declared it an independent republic, facing innumerable riots and a severe financial crisis from being a communist country to one that had to define its own style of government. Thanks to the Revolution of the Roses, a movement created in early 2003, its political, economic and social situation improved considerably. Since then Georgia's development has boosted each and every one of its components, making it one of the fastest growing countries. Georgia is considered a European nation despite its location between this continent and Asia.
Georgia Flag Meaning
Georgia has an attractive combination of cultures born from its geographic location. This, along with its innumerable natural landscapes, makes it an excellent option for family trips.
Georgia Flag Pictures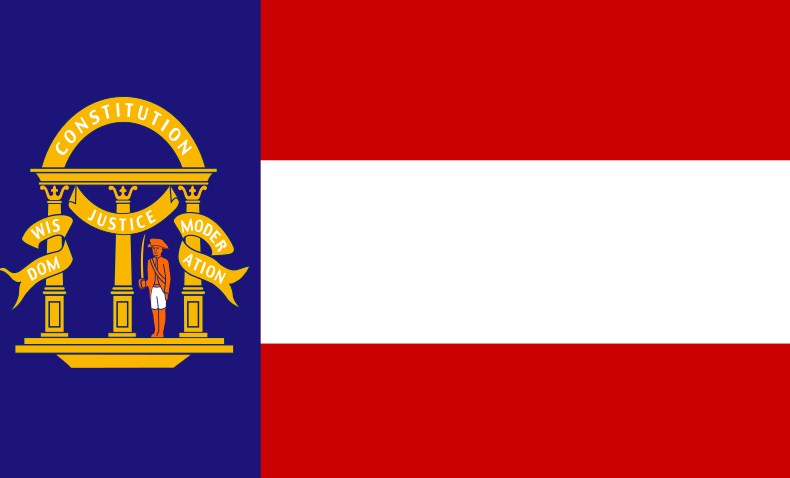 Map of Georgia