Egypt National Flag
Alam-e-Misr is the Arabic name of the national flag of Egypt. The flag is horizontally divided into three colors with an eagle of Saladin, one of the greatest rulers of Egypt in recent history in the center of the flag in a white strip of the flag. The tricolor consists a red band on top, white band in the center and black strip at the bottom. The national emblem of Egypt is the golden eagle that is incumbent in the flag, also called the gold eagle of Saladin that faces the hoisting side of the flag.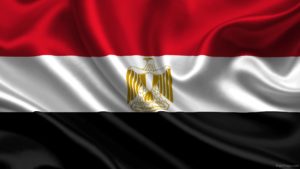 Egypt Flag Meaning
The tricolor comprises red, white, and black stripes. The red color represents the struggle for independence from the British rule that ended in 1952. The white color symbolizes peace. In the national flag of Egypt, the white color of the flag portrays the 1952 revolution that ended peacefully and successfully put a stop to the British Rule and decolonization of its forces. The bottom color i.e. black marks the end of the black night for the people of Egypt from Monarchism and British Rule. The eagle of Saladin shows valor and strength of the Egyptian people.
You may learn about: National Flag of Chad 
Egypt Flag History
Before 1952, the national flag of Egypt comprised of entirely green background with a crescent in the middle and three five-pointed stars in it. It was the first national flag of Egypt prepared by the Royal decree in 1923 after independence from British Rule a year before. After the end of Monarchy, the national flag was changed to the United Arab Republic with three colored stripes of red, white, and black linings with two five-pointed green stars in the white stripe. The green stars represented Egypt and Syria in the flag. In 1972, the Federation of Arab Republics was formed comprising three nations, this time two stars were replaced by a GoldenHawk of Quraish and later to the Eagle of Saladin.
Egypt Flag Pictures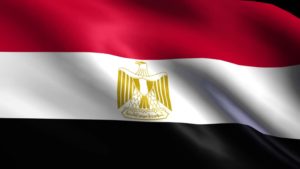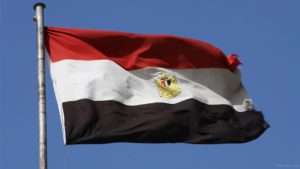 Map of Egypt