Brunei National Flag
The national flag of Brunei has the Brunei shield in the center, on a yellow field. The field is crossed with diagonal bands in black and white.
Brunei Flag Meaning
In the national flag of Brunei yellow field represents the sultan of Brunei. (In Southeast Asia, yellow are traditionally the color of royalty, and the royal banners of Malaysia and Thailand, along with the presidential flag of Indonesia, also use a yellow field.) In national flag of Brunei's shield is made up of a crescent Symbol of Islam), a parasol (symbol of monarchy), and two hands turned upwards on both sides (meaning government benevolence). Below the crescent there is a ribbon. On the crescent moon and on the ribbon there are Arabic inscriptions whose translation is: "State of Brunei, Dwelling of Peace" and Brunei's motto"
Origin of name: According to legend, Brunei was founded by Awang Alak Betatar. He moved from Garang to the estuary of the Brunei River allowing this the discovery of Brunei. According to legends, after arriving he exclaimed "Baru nah!" (Roughly translated as "That's it!" Or "That"), from which comes the name of Brunei.
The cloth of the national flag of Brunei has the rectangular. The length of the flag is twice its width. They let the flag use land and civilian organisms, including the merchant and private vessels of the country's fleet. Flag of Brunei has as its primary color bright yellow field. From top to bottom and from left to right of the flag crossed by two adjoining strips, whose top – the white and the lower – black. In the center of the Brunei flag is the emblem of the country, made in red and gold. Brunei emblem was created and approved in another1921. This important status symbol on the flag of Brunei has as its main five different elements. In its center, and in the upper part – the royal umbrella.
Do you know about the National Flag of Brazil ?
Brunei Flag History
Until 1906, the flag of the Brunei flag serrated in pale yellow. Then appeared on the flag of white and black stripes, which are slightly higher than the modern version. In 1959, the black and white field some changed their position on the Brunei flag and this option exists unchanged to this day. Flag of Brunei – one of the most revered symbols of the state. For inadequate treatment or flag damage in the Sultanate has severe penalties, including long prison terms.
Brunei Flag Pictures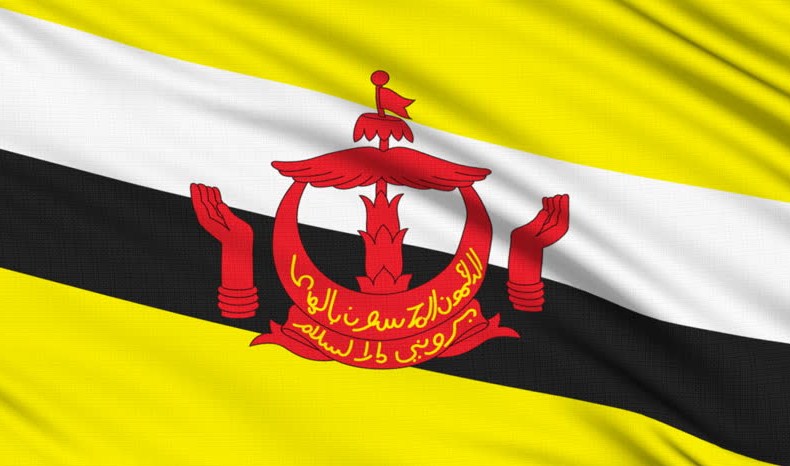 Map of Brunei