CBD oils have become very common. Not only are they available for sale on some of the leading online retail platforms, they can also be found offline in brick and mortar stores as well. Since there are very many options to choose from, finding the best place to shop from for the first time might prove to be such a daunting task. Before we take you through the general shopping experience of CBD oils online and offline, it is important to understand the fact that CBD oils are primarily made from extracts of either marijuana or hemp. What's more, depending on your preferred method of ingestion manufacturers of the oil have adopted numerous approaches in their production as far as the application is concerned. Another very important thing which many people ask about is whether the purchase of CBD oil is legal. Well, this would largely depend on the state from where you come from. It should however not be a problem since many states are in the process of changing their laws with regards o marijuana use.
And now to the actual shopping, as already mentioned, there are two main options for shopping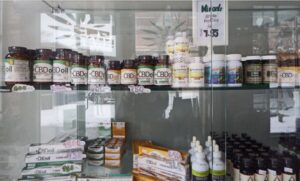 According to reports, a vast majority of CBD products are on sale online. One of the best things about online shopping is the fact that it is very easy and fast. As a matter of fact, upon placing an order and paying, you can have the product brought straight to your door. There are certain instances however where you might be required to pay upon receiving the package with the product.
Another good thing about shopping for CBD products online is the fact that the vendors offer a variety of options to choose from. You will be free to choose from a variety of options as well as have the chance to take advantage of comparing prices of various merchants before finally settling for the one that you are convinced suits you the best.
In case you are a first-time buyer, shopping online will allow you to carry out a brief research just to familiarize yourself with the product in question. The best way to do this would be to go through the social media pages of the vendor just to get more details of the products as well as feedback from previous clients. Take note, if you notice a particular vendor has received several complaints from different buyers then be wary.
Everything taken into consideration any online store which promises to offer you a miracle curing Oil is most likely to rip you off hence avoid such.
Lately, there has been a surge in the number of dispensaries coming up. Just so you know dispensaries are by far one of the leading shopping places for CBD products offline alongside other retail stores (Brick and mortar stores). When shopping for CBD products in a dispensary it is strongly advised that you make sure that the product is certified by a qualified doctor registered with your state's medical marijuana program.
Shopping for CBD products offline via the counter is different from online shopping in the sense that as the buyer, you are offered a chance to actually see the product before actually making the purchase. As if that is not enough, offline shopping for instance in a dispensary or in any retail store over the counter will also allow you to interact with the store managers. You can use this opportunity to ask questions as well as learn more about the product you are interested in buying first hand.
When shopping whether online or offline it is strongly advised that you keep an open eye for the labelling. Doing so is very important since through the label (list of ingredients) will help you ascertain the product's authenticity. Take note, any product which you will come across which does not have a label to indicate the ingredients should be considered illegal (potentially dangerous). Remember; in as much as there are no regulations yet, it is always very important to take measures that will help ensure your security regardless of whether you are shopping online or offline.