Who doesn't love tropics? The weather is always perfect, you're walking on the white sand beaches for miles and miles until you get tired and decide to sit under the palm tree and enjoy your cocktail in tranquillity. Knowing that your days look exactly like this when you're on your vacation there, it's no surprise that so many people choose destinations in the tropics for their cruise.
Countries with tropical climate are one of the most popular regions for both vacations and cruises for various reasons. These cruises typically include destinations in the Caribbean Sea such as Cuba, Dominican Republic, Puerto Rico, Jamaica, and the Bahamas. However, going on a cruise is also one of the preferred activities when visiting the tropics. 
As the largest rainforest in the world is right next to all these beautiful destinations, it could be a good idea to think about a different type of cruise. Whatever your choice is, we bring you some of the placed that are best explored through a cruise.
The Caribbean
Can you say cruise without saying the Caribbean first? This region has become a synonym for cruises as there are literally hundreds and hundreds of ships in the sea surrounding these beautiful islands. With its clear, turquoise water, this region is known as the perfect destination for lying on the beach and doing absolutely nothing. 
But, don't you too make this mistake! Caribbean islands have such a rich culture it would be a shame to miss it. From music and fantastic street festivals to the food that is so delicious you won't be able to stop eating it, there is so much of the Caribbean culture to explore. Find yourself a cruise that includes visiting islands you want to see in this region and book your cruise!
Cuba
You might think why did we decide to single out Cuba of all the Caribbean countries, but it's Cuba! Cuban culture is so strong and unique it needs to be described on its own. The capital Havana is probably the most picturesque capital in the entire world. With colorful convertibles, world-famous cocktails (Mojito, Daiquiri, Cuba Libre), mesmerizing salsa and street music – you name it, Cuba has it.
Dive into Cuba's vintage atmosphere and make sure your cruise has provided you with enough days to truly explore this giant island. There's no doubt that you will miss out on so many things if you spend there only a day. After all, each part of Cuba is so different from the other than you simply need to see it for yourself. 

Africa
Would you think of Africa when talking about the tropics? We unfairly skip this stunning continent each time we're talking about the tropical cruises. However, Africa has its charms which can't be found anywhere else in the world. As the entire continent is becoming increasingly safer, tourists are going there for a vacation to explore and learn more about countries on this continent. Booking a cruise in the tropical part of Africa will definitely leave you speechless!
As the majority of the continent is placed within the tropical region, you can visit the famous Zanzibar in Tanzania, Mozambique, Madagascar, South Africa, Namibia, etc. All of these countries are so rich in culture that you will only be able to scratch the surface of it on your cruise and book your trip to one of these countries before you even return home. 
South Pacific 
South Pacific is famous for its beautiful white beaches and impossibly clear water with such biodiversity you will feel like you've entered a completely new world. People who live in this region are known as one of the friendliest cultures in the world. If you go on a cruise to South Pacific, you can learn their ancient dances, enjoy the local foods and try out activities such as snorkeling and scuba diving. 
Some of the most popular destinations you can visit are Bora Bora, Tahiti, Pago Pago, Rangiroa, Huahine, Port Vile and thousands of other stunning islands. It's mostly known as a perfect place for honeymooners and couples but anybody can fun there as it's really tons of stuff to do in the South Pacific.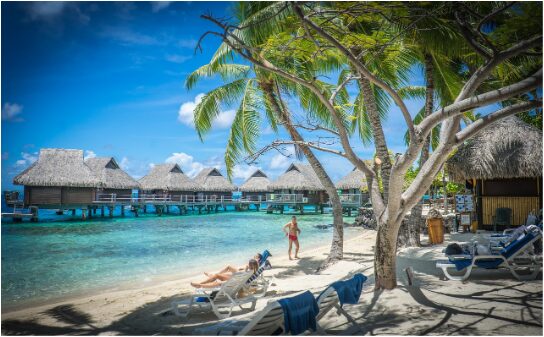 Conclusion
Wherever you decide to go on your cruise, the tropics will definitely not leave you disappointed. You can choose among the most beautiful rainforests in the world or the islands you will never want to leave. Make sure you have your wishlist prepared and book that cruise!