South Sudan National Flag
It is the national flag of South Sudan, adopted in 9 of July of 2005 after the signing of the Comprehensive Peace Agreement that ended the Second Sudanese Civil War and that enabled South Sudan was an autonomous region of Sudan. It will achieve its definitive independence in July 2011.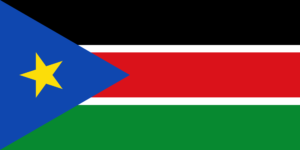 South Sudan Flag History
The current national flag of South Sudan was used for the first time in the armed conflict previously run as emblem of the Sudanese People's Liberation Movement, a Sudanese insurgent organization that through its military actions gained independence from southern Sudan.
You Also May Learn: National Flag of South Korea.
South Sudan Flag Meaning
The current national flag of South Sudan is similar to the Kenyan flag with the addition of a blue triangle and a golden star within the triangle. The colors are said to represent the Sudanese population of the South (black), bloodshed for freedom (red), earth (green), the golden star represents the Star of Bethlehem as a union of the Southern Sudan.
South Sudan Flag Pictures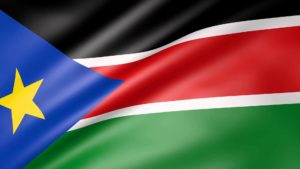 Map of South Sudan