Kenya National Flag Meaning
The national flag of Kenya is multicolored; it is based on the historical pan-African flag colors that are the International Organization for the global Negro rights protections and advancement. The flag of Kenya comprise of four colors, all the colors and layers of color represent different meanings. The black color represents the Kenyan people; the red color remembers the sacrifices and a long struggle for African rights for years by the national heroes especially the farmers and factory workers. The green color represents the economy of the country, the hills, mountains, and all the flourishing agriculture and exports that play a vital role in the economy of the country. The white stripes and the ending lines of every color show the peace and harmony, the union of the people of Kenya and among all the African nations and tribes within the country. The horizontal tricolor with white edged linings has a traditional Maasai shield in the center that encompasses the traditional defense i.e. the shield of the Maasai tribes within the country. It also consists of three colors i.e. white, black, and red.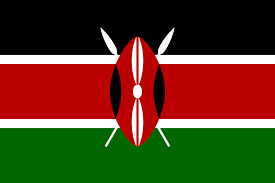 Kenya Flag History
The National flag of Kenya was officially adopted by the government on December 12, 1963. It was based on the party flag of Kenya African National Union, a political party that led Kenya to its independence. KANU is still functional in most parts of the country since the 1960s and has made governments several times. The national flag of Kenya is also based on the historic Universal Negro Improvement Association and African Communities League. Both the organizations are working since the year 1920. The flag of Nairobi County differs in shape and coloring from the National flag of Kenya. However, the proportion of the national flag of Kenya is 2:3. All the other flags of Kenya i.e. the flag of Kenya Defense and Air Forces feature the national flag at the upper left corners.
You also may learn about:National Flag of Zimbabwe.
Kenya Flag Pictures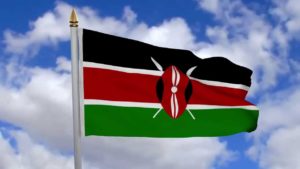 Map of Kenya