More than 70% of purchasers read other customers' reviews before buying in an online store. User reviews have a positive effect on the conversion rate and are a necessary component for any modern online store. Why you might need customer reviews, what benefits they bring to an online store and how to encourage customers to leave them on product pages – we will consider all these aspects in this article.
Why do you need Google Reviews on a website now?
Despite the fact that many owners of online stores don't think about placing Google Reviews on their websites, testimonials remain very important. First of all, you need to understand that having reviews helps increase sales. They help a potential customer get rid of doubts about a particular product or help in the final choice of an item from several similar options.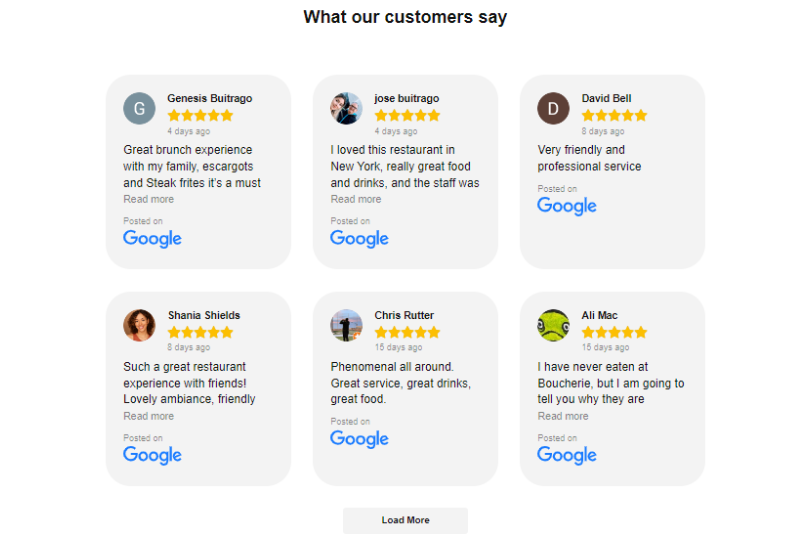 According to numerous studies:
63% of users are more likely to make a purchase in an online store that has reviews than in one that doesn't have them
86% of consumers say they trust other people's reviews as much as they trust a personal recommendation
The presence of feedback in a product catalog provides sales growth of about 18%
The level of trust in consumer reviews is 12 times greater than in shop's descriptions
User reviews are a great way to increase the amount of unique content on these pages and improve ranking in search results
The low frequency queries like 'product name' + 'review/reviews' have a positive effect on the growth of search traffic
Rating microdata shows in search results as yellow stars which increases CTR, position in SERP, and the number of user transitions in general.
The above arguments are quite enough to push any owner of an online store to embed Google reviews on a website.
How is it possible to embed Google Reviews on a site?
Although Google Reviews API exists for a long time, there's still no official easy-to-use solution for inserting reviews into websites. However, you can find tons of them created by side developers. Such tools are called Google Reviews widgets. They allow anyone from professionals to non-techies to create a Google Reviews section for their websites in a few easy clicks without coding.
Why choose Google Reviews widget by Elfsight
Of course, you should keep in mind that you'd better choose only a verified seller (and check ratings) before purchase. There is a tool called Google Reviews by Elfsight – the best in the market. It allows anyone to build an advanced and well-customized review gallery for a website in just minutes with zero coding. In addition, this widget offers tons of other amazing features:
Easy integration in HTML of any website
Managing content with filters
Switchable author and rating elements
Detailed header
Review request button
Numerous ready-made review templates
Customizable width and length of the Google Reviews section
Opportunity to recolor any elements
Modifiable fonts and text weight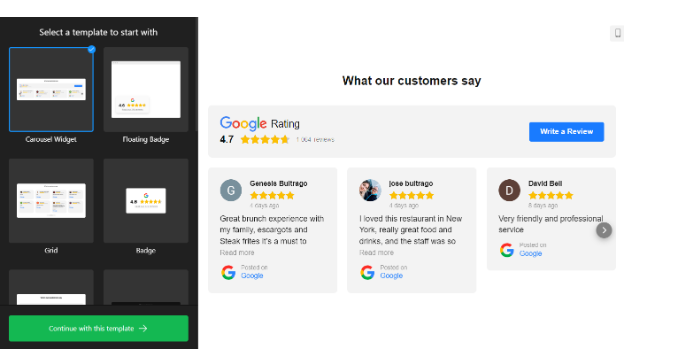 It's important to mention that Google Reviews widget is a cloud-based solution that doesn't slow down your website. The widget itself is located on our servers, and your users can freely interact with it.
In addition to it being based in our own cloud, Google Reviews are updated automatically. You just get the latest version of the widget with fixed bugs and enhanced functionality. Also, if you decide to make changes to the review section, you can simply go to Elfsight website, correct the widget, save the changes, and check it on a website. The modifications will go live as soon as this, and you won't need to make any changes through your CMS or website builder.
Furthermore, Elfsight has an amazing support group that can help you in case of any difficulties with the installation. You can tell them what platform you use and send the installation code to them. In just a couple hours you'll see Google Reviews up and running on your website. Everything you need to do after that is just lay back and enjoy the increase in conversion.
How to add Elfsight Google Reviews to a website?
There's nothing easier than this. In general, you should paste an installation code in an HTML section on your website. Here's the process in greater detail:
You should simply copy the installation code after creating and customizing a Google Reviews widget at Elfsight apps.
Save it and keep till the next step.
Afterwards, go to the admin panel of the CMS or site builder you use.
Move into the backend of a page where you want Google Reviews, and create an HTML code block there.
Later, you should paste the saved installation code there.
Finally, you should save the changes and see the performance of your widget on a website.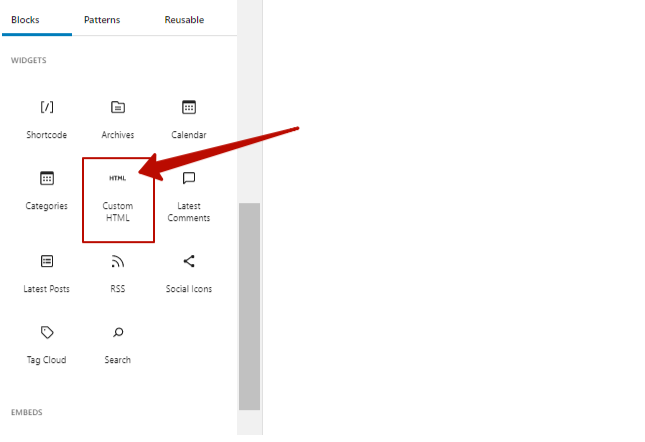 Let's look through the embed process of Google Reviews on WordPress. It's similar to all the most popular CMSs and website builders: Wix, Shopify, Squarespace, Weebly, Webflow, and so on.
When working with a WordPress site, you may need to embed Google Reviews on a specific page or group of pages. The widget appears only on the pages that you have selected. Often, these are the main page, a specific article or blog. Here's how you can do it:
Go to the WordPress admin panel
Choose a page where you want Google Reviews to appear
Paste an HTML section to the area where you need reviews
Paste the installation code of your Google Reviews widget there
Finally, save the changes
After these few easy steps you'll see Google Reviews on a WordPress website. In case you need to know about embedding Google Reviews widget on any other platforms, you can read an article by Elfsight.
Please keep in mind that not all the platforms support the option to add custom code to pages. For instance, on Squarespace and Elementor it's a paid feature. It means you should pay for a premium plan to get an opportunity for custom code insertion.
To sum up
No matter how beautiful the site is, the presence of reviews is one of the main criteria for a buyer when choosing a product. A real customer can describe the advantages and disadvantages of a particular product even better than a professional consultant.
And most importantly, a real customer does this based on personal experience, which is crucial for a potential buyer who reads this information. That is why customer reviews are an essential part of a modern online store. At the same time it's one of the indicators of the seller's attention to customers.
Embed Google Reviews on a website and encourage users to share their opinions and experiences. Respond quickly and correctly to comments and questions and work with negativity. Afterwards, you will be happy with the result both in sales growth and in the increased customer loyalty.