Tourism:
Tourism is a major contributor to Copenhagen's economy, a beautiful city that attract visitors due to the city's harbour, cultural attractions and award-winning restaurants. Since 2009, Copenhagen has been one of the fastest growing metropolitan destinations in Europe. Hotel capacity in the city is growing significantly. From 2009 to 2013, it experienced a 42% growth in international bed nights tallying a rise of nearly 70% for Chinese visitors. The total number of bed nights in the Capital Region surpassed 9 million in 2013, while international bed nights reached 5 million.
In 2010, it is estimated that city break tourism contributed to DKK 2 billion in turnover. However, 2010 was an exceptional year for city break tourism and turnover increased with 29% in that one year. 680,000 cruise passengers visited the port in 2015. In 2019 Copenhagen was ranked first among Lonely Planet's top ten cities to visit. There is a lot of places that attract visitor.
History of Copenhagen:
The history of Copenhagen dates back to the first settlement at the site in the 11th century. From the middle of the 12th century it grew in importance after coming into the possession of Bishop Absalon, and the city was fortified with a stone wall during the 13th century. The harbour and the excellent possibilities for herring fishing contributed to Copenhagen's growth and development into an important trading Centre. It was repeatedly attacked by the Hanseatic League as the Germans became aware of its expansion. In 1254, it received its charter as a city under Bishop Jakob Erlandsen.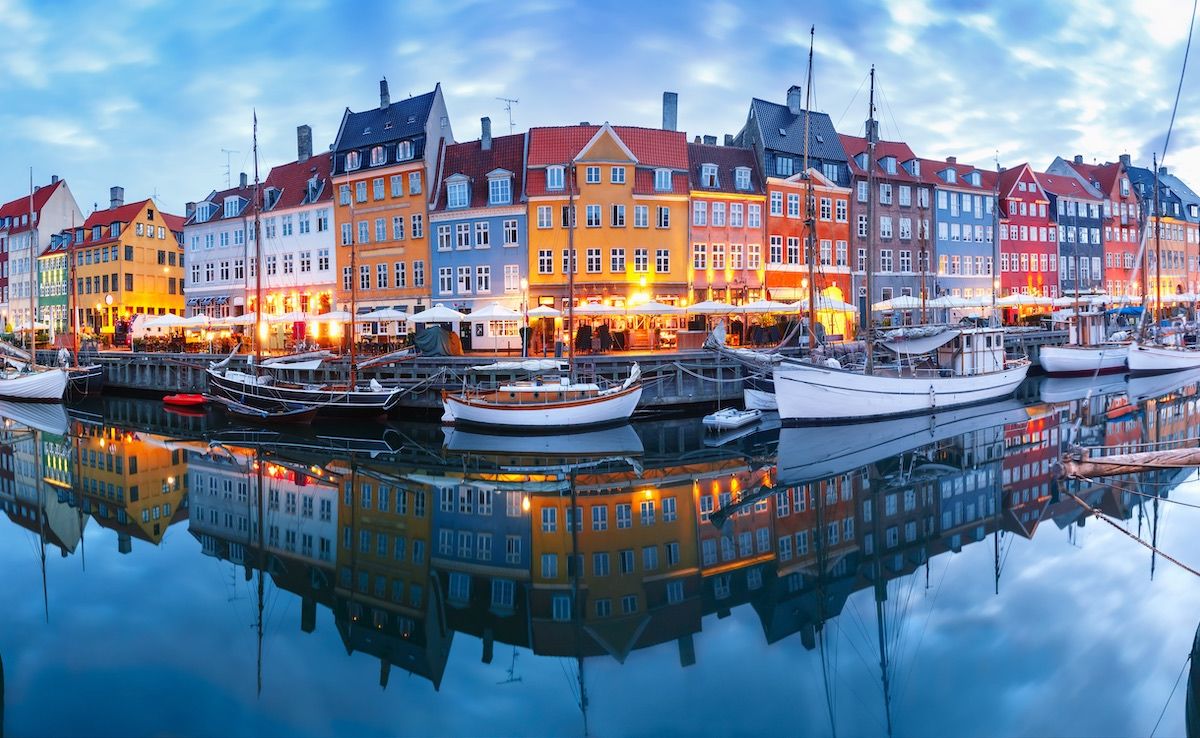 The town was significantly enlarged under Christian IV of Denmark after his coronation in 1596 by the addition of new city districts and modern fortifications with earthworks and bastions. The king commissioned German and Dutch architects and craftsmen to construct magnificent edifices designed to enhance his prestige. By the time of Christian IV's death in 1648, Copenhagen had become Denmark's principal fortification and naval port, and the town formed a framework for the administration of the Danish kingdom and as a Centre of trade in Northern Europe.
In 1901, Copenhagen expanded further, incorporating communities with 40,000 people, and in the process making Frederiksberg an enclave within Copenhagen. Since summer 2000, the cities of Copenhagen and Malmö have been connected by a toll bridge/tunnel for both rail and road traffic. As a result, Copenhagen has become the centre of a larger metropolitan area which spans both nations. The construction of the bridge has effected many changes to the public transportation system and the extensive redevelopment of Amager, south of the main city.
Museums:
Copenhagen has a wide array of museums of international standing. The National Museum, Nationalmuseet, is Denmark's largest museum of archaeology and cultural history, comprising the histories of Danish and foreign cultures alike Denmark's National Gallery is the national art museum with collections dating from the 12th century to the present. In addition to Danish painters, artists represented in the collections include Rubens, Rembrandt, Picasso, Braque, Léger, Matisse, Emil Nolde, Olafur Eliasson, Elmgreen and Dragset, Superflex and Jens Haaning
Another important Copenhagen art museum is the Ny Carlsberg Glyptotek founded by second generation Carlsberg philanthropist Carl Jacobsen and built around his personal collections. Its main focus is classical Egyptian, Roman and Greek sculptures and antiquities and a collection of Rodin sculptures, the largest outside France. Besides its sculpture collections, the museum also holds a comprehensive collection of paintings of Impressionist and Post-Impressionist painters such as Monet, Renoir, Cézanne, van Gogh and Toulouse-Lautrec as well as works by the Danish Golden Age painters.
Louisiana is a museum of modern art situated on the coast just north of Copenhagen. It is located in the middle of a sculpture garden on a cliff overlooking Øresund. Its collection of over 3,000 items includes works by Picasso, Giacometti and Dubuffet. The Danish Design Museum is housed in the 18th-century former Frederiks Hospital and displays Danish design as well as international design and crafts.
Other museums include the Thorvaldsens Museum, dedicated to the oeuvre of romantic Danish sculptor Bertel Thorvaldsen who lived and worked in Rome; the Cisternerne museum dedicated to modern glass art, located in former cisterns that come complete with stalactites formed by the changing water levels; and the Ordrupgaard Museum, located just north of Copenhagen, which features 19th-century French and Danish art and is noted for its works by Paul Gauguin.
Rosenborg Castle and park in central Copenhagen
Copenhagen is a green city with many parks, both large and small. King's Garden (Kongens Have), the garden of Rosenborg Castle, is the oldest and most frequented of them all. It was Christian IV who first developed its landscaping in 1606. Every year it sees more than 2.5 million visitors and in the summer months, it is packed with sunbathers, picnickers and ballplayers. It serves as a sculpture garden with both a permanent display and temporary exhibits during the summer months. Also located in the city centre are the Botanical Gardens noted for their large complex of 19th-century greenhouses donated by Carlsberg founder J. C. Jacobsen. Fælledparken at 58 ha (140 acres) is the largest park in Copenhagen.
It is popular for sports fixtures and hosts several annual events including a free opera concert at the opening of the opera season, other open-air concerts, carnival and Labour Day celebrations, and the Copenhagen Historic Grand Prix, a race for antique cars. A historical green space in the northeastern part of the city is Kastellet, a well-preserved Renaissance citadel that now serves mainly as a park. Another popular park is the Frederiksberg Gardens, a 32-hectare romantic landscape park. It houses a colony of tame grey herons and other waterfowl. The park offers views of the elephants and the elephant house designed by world-famous British architect Norman Foster of the adjacent Copenhagen Zoo. Langelinie, a park and promenade along the inner Øresund coast, is home to one of Copenhagen's most-visited tourist attractions, the Little Mermaid statue.
In Copenhagen, many cemeteries double as parks, though only for the more quiet activities such as sunbathing, reading and meditation. Assistens Cemetery, the burial place of Hans Christian Andersen, is an important green space for the district of Inner Nørrebro and a Copenhagen institution. The lesser-known Vestre Kirkegaard is the largest cemetery in Denmark (54 ha (130 acres)) and offers a maze of dense groves, open lawns, winding paths, hedges, overgrown tombs, monuments, tree-lined avenues, lakes and other garden features.
It is official municipal policy in Copenhagen that by 2015 all citizens must be able to reach a park or beach on foot in less than 15 minutes. In line with this policy, several new parks, including the innovative Superkilen in the Nørrebro district, have been completed or are under development in areas lacking green spaces. For More Visit our site https://worldaroundu.com/